Fixed & Variable Speed Engines
Isuzu's industrial engine range for Australia spans 50 models, starting with a C Series two-cylinder engine developing 10 kW up to the impressive six-cylinder common rail 16.0 litre 6WG1 that develops 397 kW.

The engines are available in fixed and variable speed configurations and include a variety of PTO and SAE combinations to satisfy your requirements (see tables). Rest assured, there's an Isuzu diesel for any job.
Isuzu Diesel Engines

Generator Sets
Today, in Australia, over 60,000 Isuzu diesel engines will go to work, moving goods, carving out earth and rock, pumping water, pulling ploughs as well as propelling work boats in the gulf and providing on-board power for commercial charter vessels.
Isuzu diesels power many of the world's leading diesel powered equipment and of course the market leading Isuzu trucks. In fact, Isuzu is the largest producer of industrial and commercial diesel engines worldwide.
And now Isuzu's legendary reliability in hard work applications is available in a range of Isuzu Generator sets.
There are 6 Isuzu Generator set models based on Isuzu 2, 3 and 4 cylinder gen-drive engines producing 6 to 26 kVA in single or three phase (excluding 2 cylinder) output.
All Gensets are supplied configured in single phase and can be re-configured to three phase*.
All the engines specified for use in Isuzu gensets meet the very latest global emission output standards.
Features
Radiator with core guard and fan shroud
Donaldson air cleaner
Isuzu silencer with rain cap
Oil sump pump
Datakom electronic controller with remote start capability
Auto shutdown protection – high water temperature and low oil pressure
Battery box (battery not included)
WEG generator (excluding two pole, 3000rpm application).
All gensets are test-run and supplied with a test result sheet.
Options
Customised single or three phase distribution board to specified requirements*
Galvanised fuel tank base with poly fuel tank and gauge
Datakom controller plus gauges for water temperature, oil pressure and hours run with remote start capability.
All Gensets are shipped with:
1 x Engine owner's manual
1 x Generator owner's manual
1 x Exploded parts view listing
1 x Engine test result sheet

Power Units
Combine your Isuzu Diesel with genuine Isuzu engine accessories to create an off-the-shelf turnkey power drive unit ready to go to work.
Isuzu offers a variety of kit-form accessories for each engine model including cooling packages, air cleaner units, exhaust systems, engine mount skids, engine wiring looms and control panels.
Choose the accessories you need separately for your application or alternatively choose the assembled power drive unit that best fits your requirements.
Long Block Industrial Engines

YOUR OLD MACHINE CAN NOW BE GIVEN A SECOND LIFE
There are thousands of Isuzu industrial engines currently in operation either generating electricity or providing drive for a variety of equipment and applications.
Over the years they've demonstrated themselves to be time-proven performers, never missing a beat.
Some of these engines though, are 'getting on a bit' and have clocked up many thousands of hours of service in often hot and dusty working conditions.
For this reason, Isuzu has introduced a range of long block industrial engines to extend the service life of a selection of its popular three, four and six cylinder stationery engines. This will be especially useful for owners of early model Isuzu engines, which have lapsed out of production.
Rather than a mechanic having to fully dismantle and rebuild an engine at considerable cost, and with notable downtime, these Isuzu long block engines provide a much faster and cost effective solution.
The heart parts
Each long block engine is pre-assembled and includes all major components; the remaining ancillary parts are sourced from the donor engine or can be
purchased separately if required.
Included in each package is a cylinder head, rocker arm and shaft assembly, intake and exhaust valves, push rods and tappets, valve stem oil seals, all timing gears, gear case assembly and cylinder block. The package also comes standard with camshaft and bearings, pistons, connecting rods and bearings, temporary oil pan assembly, and crankshaft and bearings.
Good for the heart and mind
Isuzu long block engines offer rejuvenation for older engines whilst providing you peace of mind with their 12 month warranty.*
Give your 'old reliable' a timely transplant and the chance to serve you well in its second life.
*Warranty covers defects in material and faulty workmanship from factory.
The Full Metal Heart Transplant

When you're out on the water, reliability is everything.
Optimal products and service for our customers.
Reliable engines on water and land.
Over the years, Isuzu has acquired an enviable reputation for reliable marine engines. That's not surprising, considering we're one of the world's largest diesel engine manufacturers, with over 20 million engines worldwide since 1936.
Isuzu engines are manufactured and supplied for snowmobiles, excavators, mining and agricultural tractors and loaders, generator sets and auxiliary power applications. In each case, our reputation for reliability, service support, performance, fuel efficiency and emission standards are major factors.
Reliable engines all over the world.
In Antarctica, for example, Isuzu is the supplier of all diesel engines for snowmobiles and generators at Japan's South Pole research facility, where temperatures fall as low as -80 degrees Celsius. Isuzu diesels have also been selected by leading automobile manufacturers such as Adam Opel in Germany, Saab in Sweden, Renault in France, Holden in Australia and General Motors in the USA.
In the Japanese industrial engine market, Isuzu is a leader in stand-alone diesel engine sales to other companies, with more than a 50% share of Japan's markets for diesel-powered hydraulic shovels and forklifts. We're also the leading supplier of diesel engines in numerous other construction machinery fields.
In the United States, Isuzu has a growing network of over 670 authorised service dealers, while in Europe, we own the highest share in the stand-alone automotive diesel engine market with an established sales and service network for our industrial engine customers in more than 13 countries.
We're constantly striving for a technological edge, setting the pace for the industry in developing fuel efficient and low-emission yet powerful diesels. In the marine engine market, our engines are recognised for their sure-starting dependability and running cost advantages.
Reliable engines come with a reliable warranty.
As a testament to our reliability, all Isuzu marine engines come with a comprehensive two-year (or 2500 hours, whichever comes first) warranty. For even more peace of mind, our warranty on the cylinder block, crankshaft and connecting rods is three years or 3500 hours.
After all, at Isuzu, reliability is everything.
Engineered Solutions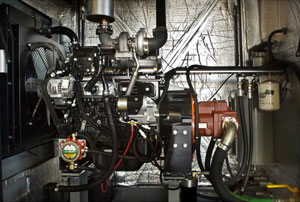 From the gas fields of Queensland to the wheat belt of Western Australia, Isuzu Diesels are powering several of the country's leading diesel-powered brands. With many of today's requirements for auxiliary power incorporating mobility, Isuzu is the obvious choice combining its market leading dealer network with Australia's number one truck* and class leading industrial engines.
Isuzu prides itself on being associated with Australian ingenuity and works side-by-side with OEM engineers to design the ideal solution for power requirements.
*Includes truck, LCV and industrial diesels.